You can also bid online real-time with Goofee-Bid at our venue style auctions.
Instructions on how to register are available on our website or can be sent by email.
How to apply for Goofee-Bid
For the use of Goofee-Bid, you have to registered to our membership and we require
that you have purachsed record at THI auctions in the past.
01

Application for use

You will be able to apply for Goofee-Bid as the auction approaches.

02

Complete Goofee-Bid request form

Enter your registered email address and password then press the "Goofee One Day Password" button.
03

Your request has been sent

Once your request has been sent, the screen will change. You'll also be sent an email notifying your Goofee registration is complete so please check it.


The Goofee One Day Password will be sent out by email on the auction day approximately 2 hours before the start time
※ Join the Goofee test

We'll hold a Goofee test before auction day. The test auction is to check whether it works correctly on your internet and computer. If you're a first-time user, please join the Goofee test.
Please check our website and promotion mail for Goofee test schedule.
How to login to Goofee-Bid
01

Start using Goofee-Bid

Join from the "Participate online" page
02

Goofee-Bid login

Enter your Login ID, Password and Goofee One Day Password in the login form Check the box for "I have checked the Goofee-Bid special terms and conditions" then click the "Goofee-Bid Login"button
*If an error is displayed, please contact us at the following.

Inquiries regarding the auction

+81-45-508-2000

Open hours: Weekdays 9:00am to 17:00pm
03

Start Goofee Plus

Goofee Plus is starting
If you're logging in while the auction is running you'll be able to join from the next lot.
Goofee Plus user instructions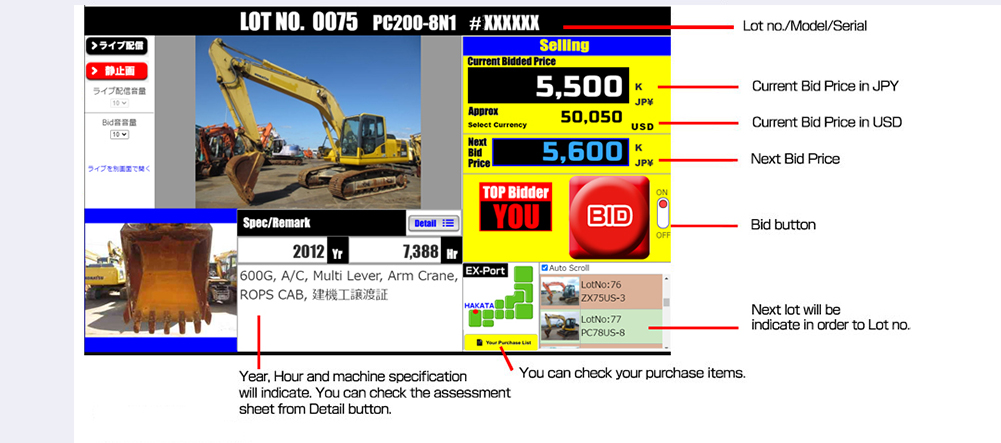 01

Bid with the BID Button

When" START "is displayed, bidding has begun. Press the BID button to bid.
If another person's bid has entered, make sure to check the "Next Bid Price"when bidding
02

Successful bid rights and countdown

If in the "Top Bidder" section displays "YOU" then you are currently the highest bidder and have the successful bid rights.
Bid will close when the "COUNT DOWN" goes to zero please be careful.
03

Successful Bids / Withdrawn

When the "COUNT DOWN" is complete, the successful bid will be displayed. If you had the winning bid "YOU WIIN" will be displayed. If someone else has the winning bid "SOLD" will be displayed.
If no bids are placed or a reserve price is not met, the lot will be withdrawn and "Withdrawn" will be displayed.

You are the successful bidder Another person is the successful bidder When a unit is withdrawn